ACCGO.info is a streamlined, quick access site for Faith Formation information and registration at Annunciation Catholic Church. Create a quick-link on your phone or tablet to check for updates each week in Faith Formation.
Monsignor Patrick Caverly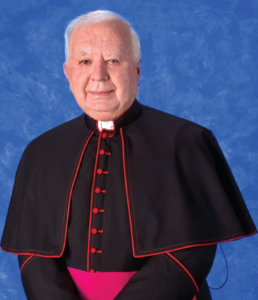 Thank you for your prayers for Monsignor Caverly and his family.  Monsignor has been very ill over the last couple of weeks as we announced at Mass and during the week he continued to decline.  He passed peacefully with loved ones around him at 3:00 pm on Thursday, September 14th – The Feast of the Exaltation of the Cross.
Monsignor Caverly had a special relationship with our Blessed Mother.  Please pray a rosary for the repose of his soul and in thanksgiving for his selfless Priestly ministry.
May the souls of all of the faithful departed, through the mercy of God, rest in peace. Amen.
Due to the time and date of the funeral, Wednesday, September 20th Faith Formation Classes will be cancelled.
Parish Announcements - Events
Youth Ministry
Adult Faith Formation
Sacraments for Adults
Faith Formation Registration
Questions - Contact
Parish Office: 407-869-9472
Annunciation Catholic Church
1020 Montgomery Road
Altamonte Springs, Florida 32714
Click Here to visit our Clergy / Staff Directory
Parish office hours:
Monday, Tuesday and Wednesday: 8:00am to 8:00pm
Thursday and Friday: 8:00am to 5:00pm
Sunday: 9:00am to 12:00 noon.